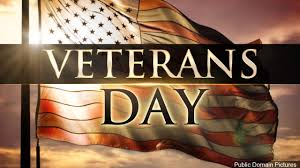 Each year as November 11 approaches, I pause to reflect upon Veterans Day, a national holiday of special significance to me. First of all, I am a veteran, having served two years in the US Army, from 1967 to the end of 1968 during the Vietnam era. Most providentially that experience directly relates to my being here in Fayetteville, NC where I lived from 1985 to 1994 when I taught as an associate professor at Fayetteville State University. In 2013 I returned to teach as an adjunct professor at Carolina College of Biblical Studies.
Born and reared in Gary, Indiana, I visited Purdue University, the first college campus I ever set foot on, when I was about 13 or 14. At that time I decided I would attend Purdue and major in Pharmacy. When I graduated from high school in 1960, I enrolled at Purdue and graduated with a Bachelor of Science degree in Pharmacy in 1965, later becoming a registered pharmacist, working as a staff pharmacist at Methodist Hospital in Gary. While enjoying the "good life," I received my "greetings from Uncle Sam" in 1967 was drafted into the US Army. Back then I thought this was the worst thing that could have happened to me. Being drafted into the Army in the late 60s was not an ideal situation for a young African American male in light of the disproportionate number of black men sent to Viet Nam, some of whom did not return and others who were forever changed by that experience.
In January 1967 after a tearful farewell with my parents, I boarded the bus that took me to Fort Campbell, Kentucky. Upon completing of my basic training, I went to Fort Sam Houston, in San Antonio, Texas, where I could choose to work in a dispensary filling prescriptions, as I had done before, or I could choose to become a pharmacy instructor and teach pharmacy technicians. The second choice sounded intriguing since I had not done that before, and so I opted to become a pharmacy instructor, which turned out to be ideally suited to me and opened up a new world of classroom teaching which ignited a passion to teach. This passion motivated me to pursue a Master's degree in English from Emporia State University in Kansas and a Ph.D. in English from Indiana University. This passion continues to burn, even as I am teaching at CCBS where I teach classes on campus and online.
My time of service as pharmacy instructor began with intense training at the Medical Field Service School. During this time, I recall one veteran from Kentucky whom I knew briefly while serving as a pharmacy instructor at Fort Sam Houston. He and I had many things in common: we were both drafted as pharmacists who opted to become pharmacy instructors, but there was one notable difference. I had not signed up for an extra year of service, despite the Army's indicating I might not get a pharmacy position if I didn't. My fellow serviceman, had signed up for the extra year, but we both received pharmacy positions. The extra year, however, increased the likelihood of going to Vietnam if a pharmacy position needed to be filled there.
About nine months after we completed our training as instructors, my fellow instructor received orders for Vietnam, and by the end of the year, he was shipped overseas. In the early part of the next year, we received the news that he had been killed. The impact of that experience did not fully resonate with me until years later on Memorial Day when I looked up the name of this individual on the website for the Vietnam Memorial and recognized that he was from a small town in Kentucky. I was teaching a composition and literature class at the time at the Louisville campus of Indiana Wesleyan University when I saw my colleague's death in a totally different light. In literature we find a term called a Christological figure or Christ Figure. The term refers to an object, person, or figure representing Christ allegorically or symbolically. Such a figure shares qualities generally found in Christ, with one of the most notable qualities being "self-sacrifice."
I was overwhelmed by the reality that my fellow instructor, in a sense, went in my place. What transpired while I was in the Army culminated in an awareness of the ultimate sacrifice of Jesus Christ, who took my place and gave his life that I might live. My whole experience in the military brings to mind my favorite verse in my favorite chapter of the Bible: Romans 8:28
And we know that all things work together for the good, to them that love God, to them that are the called according to His purpose.
Today I recognize more clearly than ever what Satan meant for evil, God in His providence, transforms into something great and glorious. Each Veterans Day, I reflect with gratitude to God for my time of service in the military, recognizing the contribution that veterans have made and continue to make to secure the blessings of liberty that we enjoy today.
We conclude with a Veterans Day Tribute (November 11, 2018 edition—100-year anniversary).